Many of us have come across this update to Windows. After the upgrade to Windows 7 from XP, it is another achievement of Windows –Windows 8. Windows 8 in fact represents the biggest change to Microsoft's operating system since the launch of Windows 95.
Most of us are familiar with the previous operating system of Microsoft, Windows XP, Windows Vista and Windows 7. Though the improvement on this series of operating system is seen, they're fundamentally the same as Windows 95. It does not take much effort to switch between these platforms as the options have moved around a little.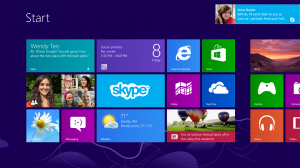 Below are some big changes you may want to look at which Windows 8 has encountered.
The Windows 8 interface acts as the Start menu now instead of appearing as columns of small icons that used to pop up when Start button is clicked
All applications show up as tiles on the Windows 8 Start screen.
You can also search for an application by typing its name when you're in the Start screen; the results list auto sorts as you type more characters.
A new programming interface, DirectText, which offloads text rendering to the Graphic Processing Unit (GPU). Text-rendering performance in desktop programs and in Windows 8 apps is double than that of Windows 7—often better than double.
A new file system called ReFS (Resilient File System) is integrated which adds features to improve data integrity. ReFS continually scans the file system, including rarely used older files, to ensure they haven't become corrupted, repairing bad disk clusters and moving data as necessary.
Windows 8 provides multiple levels of system repair.
SkyDrive cloud-storage is the Windows 8 app which is the default storage for many applications, but you can change that on a per-application basis.
With these major changes and many others, Windows 8 offers performance improvements that include a new file system, easier recovery from system problems, better cloud integration and other enhancements. Windows 8's Start screen seems much more polarizing.
Regardless of everything, Windows 8 is leading in a new era of cloud-connected Microsoft services with quality features as unified user interface, and more-robust social media interaction. In comparison, young users will find Windows 8 more attractive than old users. We can take it as a risk that Microsoft needed to try to remain relevant in today's mobile connected – mobile world.
According to the Review of Windows 8 posted in PC World, Windows 8 isn't for everyone. The user will be comfortable Windows 7 if he/she is mostly a desktop PC user and upgrading to Windows 8 will not probably be worthwhile. But, if you're a mobile user who is in need of easy access to complete Microsoft ecosystem including SkyDrive, Windows 8 is definitely a good fit. However, if your needs lie somewhere between these two extremes, try giving Windows 8 a close look; you might find an interest in the new OS. And of course the cost is low, but you'll need to learn your way around the new Start screen and make sure that your existing software runs well in the new OS.
For more information or help on how you can upgrade to Windows 8 you can contact us at 020 8293 0100 or simply email us at support@wavehill.co.uk.