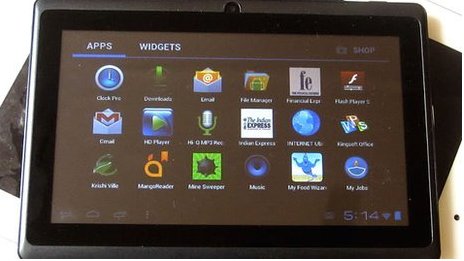 The year 2013 has indeed been the year of the low-cost tablet, Tesco Hudl £120, Argos MyTable £100 and AldiMedionLifetab £80.
However, a new tablet device has gone on sale in UK  at £29.99. Its price makes it £50 cheaper than Aldi's Lifetab, £70 cheaper than Argos' MyTablet and almost £90 cheaper than the Hudl by Tesco.
Thistablet – UbiSlate 7Ci is created by a UK based company called Datawind and is actually the commercial version of the Aakash 2 tablet which was originally launched in India. During the production, it was mainly focused on students and was designed in a way to provide a cost competitive product for better learning environment.
When tablet Aakash was launched first in India in the year 2011, it was branded as the "World's cheapest touch-screen tablet". It was primarily aimed at schools and colleges but this version was not well appreciated. Regardless of what critics said, they launched a new version Aakash 2, named as UbiSlate 7Ci has received good response and has today gone on sale in UK, which is of course a great achievement for Datawind.
This tablet consists of the following features at just £30:
7in (18cm) Android tablet
Android 4.0
Powered by a 1Ghz Cortex A8 processor, (of the same calibre as the original iPad)
512MB of RAM (twice that of the original iPad)
Flash memory of 4GB that can be supplemented by up to 32GB through its micro-SD card slot
Wi-Ficonnectivity supports external 3G for mobile broadband data connectivity
Three hour battery life
Suneet Singh Tuli, the founder of Datawind at the Wired 2013 conference, said getting online was all about affordability. "It's not just about creating low-cost devices, for us it's about delivering the internet," he said.
Since Apple dominated the tablet market for years, Google was the first major company to challenge iPad with the launch of Nexus 7 by Asus in 2012. It was a cost competitive tablet that went on sale for £159 and compared to iPad mini's that costs £269, it is a budget product and was built without compromising on the majority of features. Also, it came with the world's highest resolution screen.
After that Tesco took a step ahead with the launch of Hudl tablet at just £119. Argos then jumped with the trend with its £99 MyTablet before Aldi undercut them both with its £79 Lifetab earlier this month. Continuing the trend, Amazon has also recently refreshed its Kindle range by dropping the price of Kindle Fire HD down to £119.
'With recent ONS figures showing that in the UK, 29 per cent of the poorest households have no computer and 36 per cent no internet, we're working to bring affordable technology to the hundreds of thousands of households excluded from the digital revolution', said Datawind's chief executive Suneet Singh Tuli.
[blockquote]The UbiSlate 7Ci serves as a functional leisure activity device for those who want to explore without having to worry about device damage at a very convenient price of £29.99[/blockquote]
https://www.freebacklink.biz/